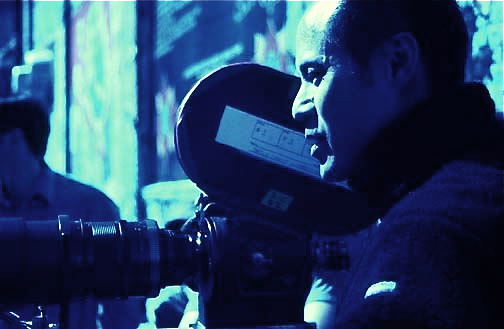 Jonathan Fung is an interdisciplinary artist, professor and social activist based in the Bay Area. Jonathan teaches photography at San Jose State University through a social justice and narrative lens. He began his career shooting fashion editorial in New York, Paris, Milan, Los Angeles and San Francisco. He pushed the creative boundaries with his photography through the deconstruction of the human form and gained representation in New York City and San Francisco.
Jonathan expanded his art practice from still photography to filmmaking. He collaborated with Nam June Paik, "Father of Video Art," for Modulation in Sync at the Guggenheim Museum and Electronic Superhighway at the Holly Solomon Gallery, both in New York City. Jonathan was a participant at the Doek Festival, where his film Een Nauwe Poort (A Narrow Gate) was screened in the canals of Rotterdam onto 17th century ship sails. His work was also displayed at the Venice Biennale in the Snow Show exhibition. Jonathan's disconcerting video installation on anthropophagi, I Eat, Therefore I Am, was exhibited at the San Jose Museum of Art.
For the past 12 years, Jonathan's work has been a platform to expose the darkness of human trafficking and create a call to action to educate and spread awareness. His video installation Down the Rabbit Hole was part of the Wonderland exhibition in the San Francisco's Tenderloin District. His award-winning narrative short film Hark was screened at many film festivals, including the Cannes Film Festival Court Metrage.
Jonathan's public art installation PEEP was included in the 5×5 Project in Washington DC. A year later he was commissioned by the San Jose Art Commission to recreate PEEP in downtown San Jose as part of the Super Bowl 50 festivities. His site-specific art installation Coolie was exhibited at the de Saisset Museum and exposed the forced labor of Chinese immigrants during the California Gold Rush era. Jonathan created a site-specific video installation, Prey, for the Reason & Reverie Exhibition at the Natalie and James Thompson Gallery. During human traffic awareness month, he exhibited Play at the Redwood City Art Kiosk, a site-specific video installation with a metal slide and vintage TV sets in a playground setting to remind the viewer that children are invaluable and a commodity not for sale.
Jonathan Fung | email: [email protected]